Art Lessons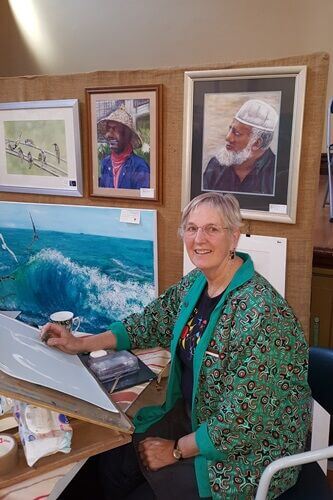 I take Adults for Art Sessions, whereby I assist the student, teach a wide variety of skills and techniques, and encourage risk taking and especially loosening up.
The mediums I deal with are Pastel, charcoal and Graphite, Acrylic and watercolour.
I provide all the materials originally, as I find that students haven't the knowledge about quality papers and materials. What to buy or how to best use them. Most students then buy their own, so that they can work on their projects at home. I do ask students to provide a sketch book, with a gsm of more than 110.
I will be holding fortnightly Art lessons over the winter period from Tuesday the 18th of July.
Lessons take 2hours, we usually have a "cuppa" during the session, with tea and coffee provided. Groups are a good size, not greater than 10.
Most sessions have a warmup activity, which usually focusses on a particular skill or technique.
The Uniting Church Hall in Scott Street Buninyong provides a comfortable spacious environment in which to create our art pieces.
Scott Street Buninyong
Uniting Church Hall
Fortnightly on Tuesday Afternoons: 1pm to 3 pm
Price $30
Aprons provided.
No need to have prior Art experience, that is the beauty of being in this group.
We play, learn and experiment with the materials and produce beautiful masterpieces.
If you are interested in commissioning an art piece, art lessons or a piece you want to purchase on this site
please contact me for more information.
Contact Trudy Nicholson - Artist for all enquiries